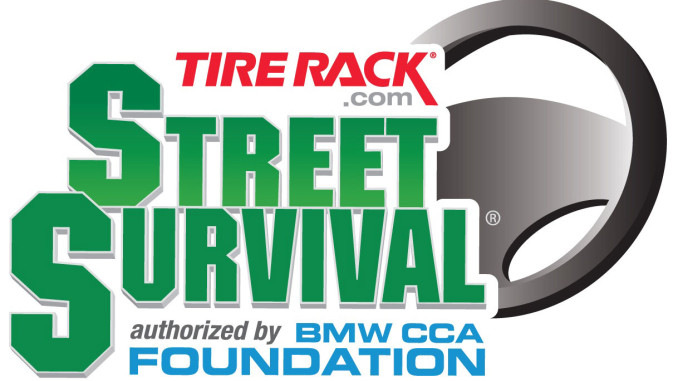 A decade of local enthusiasts' volunteerism brings national non-profit teen driving program to communities across the US, teaching young drivers how to 'arrive alive'
Formed in April 2002 by the BMW Car Club of America Foundation, the Tire Rack Street Survival safe teen driving program was launched. With the help of several corporate sponsors (BMW of North America, The Tire Rack, and Liberty Mutual Insurance), Tire Rack Street Survival was initiated. Tire Rack Street Survival is built upon the premise that 'safe driving is learned by doing.' From the outset, Street Survival has always been hands-on and designed to go beyond the typical high school driver's education program. The program teaches students to avoid accidents by thinking and looking ahead. Tire Rack Street Survival is unique in that it offers students instruction in their own cars so that they learn the limitations of the car they drive daily.
The Tire Rack Street Survival school is a safe teen program designed to go beyond today's required driver's education and give teens across the U.S. the driving tools and hands-on experience to become safer, smarter drivers. Trained and qualified in-car driving instructors as well as classroom experience for each student.
Last year, over 5,000 teenagers died in motor vehicle crashes, the leading killer of American youths aged 16 to 19, accounting for more than 40 percent of fatalities in that age bracket. To reduce this number, Tire Rack Street Survival has developed a non-profit, national driver education program aimed at teaching teens the skills they need to stay alive behind the wheel.
As funding for high school driver education programs continues to dwindle and as the fall and winter road travel season approaches, vehicle accidents still remain the biggest killer of youths age 15 – 20. That is why parents, schools, religious organizations and local governments are, again, being encouraged to host a non-profit Tire Rack Street Survival® teen driving program in their neighborhood. The goal of the program is to save lives by teaching young drivers the basics of car control, to enhance their enjoyment of driving and to improve their competence as drivers. For less than the cost of a new textbook, teen drivers are taught how their actions govern a car's responses, what the vehicle's limitations are and how to avoid accidents entirely.
"We're trying to make the roads safer for everyone," said Bill Wade, national program manager, Tire Rack Street Survival. "For the sake of the next generation, The Allegheny Chapter of the BMW Car Club of America is hosting a Tire Rack Street Survival program of their own." This program will be presented at the Pittsburgh International Race Complex located in Wampum, Pennsylvania just a short drive from the City of Pittsburgh on Sunday September 13, 2015.
Classes are conducted by local members from regional chapters of the BMW Car Club of America (BMW CCA), Sports Car Club of America (SCCA), Porsche Club of America (PCA), Audi Club of North America (ACNA), the National Corvette Museum and other car clubs that volunteer. Students, driving their own vehicles in order to translate their daily driving experiences, are supervised at all times by experienced, knowledgeable driving coaches.
The Tire Rack Street Survival® program is run by the BMW Car Club of America Foundation, a national, non-profit organization that provides benefits to the motoring public. Tire Rack Street Survival® is open to licensed or permitted drivers, ages 15 – 21.
To register go to http://www.motorsportreg.com/events/allegheny-bmw-cca-14-1-pittsburgh-international-race-compl-tire-rack-730048#.VcFZqfNVhHw
For more information go to http://www.bmwccafoundation.org/about/programs/driver-safety-program/